Creating, or restoring pride to our clients by providing resinous (epoxy) flooring solutions that are beautiful, durable, and easy to maintain.
Think your vision is out of reach? Think again! We offer flexible payment options for all epoxy flooring option & take the time to work with you to make your vision become a reality. Epoxy garage floors are available with numerous options and colors to choose from. Lakes Region Epoxy offers a versatile range of commercial, industrial and residential epoxy flooring solutions. We are proud to service homes and businesses from the Lakes Region to the White Mountains!
Epoxy Coating Solutions (with 100% pure epoxy)
Lakes Region Epoxy uses only 100% pure epoxy that is Chemical, Salt, UV, & Slip resistant. Don't be fooled by low priced water-based epoxies or paint. Our floors are durable and will last the test of time. We take care of moving belongings and obtaining portable storage while we complete your project, we offer flexible payment options to make those dream spaces become a reality, and offer a lifetime of professional cleaning for your new floors for ½ the cost to keep your new floor looking great for years to come.
Want to know what makes our floors different than the store bought epoxies? Watch this!
Lakes Region Epoxy transformed my garage! Not only did they call me immediately after my initial inquiry, they were realistic and honest about their workload and timeframe. They scheduled the project approximately 10 weeks in advance and actually showed up on the date they said they would! (Something few contractors are doing these days). I highly recommend them.
Lakes Region Epoxy was great to deal with. The pricing was fair, the work quality was excellent and Jason kept me up to date each and every step of the way.
Jason and his crew did an outstanding job on our garage floor, as well as our neighbor's floor. He designed the look with colors that that reminded me of Alumni Stadium at Boston College, including an eagle logo in the center of the floor! Workmanship was top notch and was personally supervised by Jason himself. I highly recommend these folks
Excellent experience from start to finish. Starting with the quote down to the last detail of completion, excellent communication and professionalism. I'm thrilled with the outcome and would not hesitate to use or recommend Lakes Region Epoxy. This is an owner operated business and I was overly impressed with the knowledge the staff had regarding my product. Thank you so much for a pleasurable experience!
Jason and Co. installed a beautiful floor in my walk out basement home office and entrance room. Everyone who see's the floor LOVES it. I am so pleased with their work and attitude that they will be coming back to do my garage floor where i store high value antique vehicles. 10 star rating from me!
Jason Briand has created an inspiring business. He provides culture and tone at the top for his employees. They are on time, professional, respectful and admit an "OCD" for cleanliness.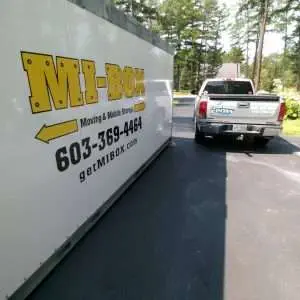 Not sure what to do with all the stuff in your garage or basement when considering one of our beautiful floors. Worry no more because that MI-BOX is on us for 30 days at no charge!!!